This is an old revision of the document!
---
AfterNET Merchandise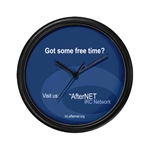 All profits from our CafePress shop directly support the network by helping cover the costs of things like domain registration fees, web hosting fees, ircd hosting fees, and occasional contests. So head on over and get yourself a cute teddy bear, awesome clock, or sexy thong!